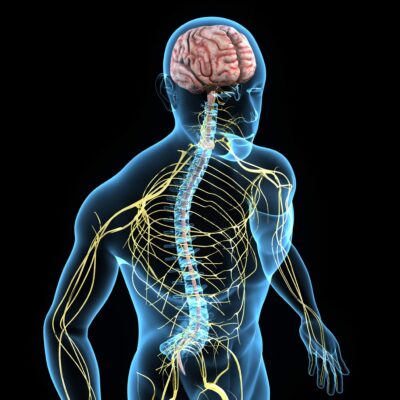 Disorders associated with dysfunction of the autonomic nervous system are quite common yet frequently unrecognized. Dysfunction of the autonomic nervous system can produce a myriad of symptoms including lightheadedness, dizziness, burning pain, difficulty with digestion, and even problems with sweating.
Quantitative autonomic testing is an invaluable tool for the evaluation of these disorders. The presented protocol evaluates 3 major autonomic domains: cardiovagal, adrenergic, and sudomotor. The tests include deep breathing, Valsalva maneuver, head-up tilt, and quantitative sudomotor axon test. The severity and distribution of dysautonomia can be quantitated using Autonomic testing.
Deep Breathing
Deep breathing tests cardiac parasympathetic functions. Because the heart responses to deep breathing are mediated by the vagal nerve, the test is also referred to as cardiovagal testing. Deep breathing test measures cardiovagal functions. Both deep breathing and Valsalva maneuver are needed for grading of cardiovagal functions.
Valsalva Maneuver
Valsalva maneuver evaluates: 
1) sympathetic adrenergic functions using the blood pressure responses; and
2) cardiovagal (parasympathetic) functions using heart rate responses. Valsalva maneuver consists of forced expiration against the resistance with the expiratory pressure during strain for 15 seconds.
Valsalva maneuver evaluates both adrenergic and cardiovagal functions. Grading of adrenergic impairment requires both the Valsalva maneuver and the tilt test. Grading of cardiovagal impairment requires both deep breathing and Valsalva ratio.
Tilt Testing
The test stimulates the autonomic nervous system with orthostatic stress by passive movement from a supine position to upright tilt in a controlled laboratory setting. Tilt tests predominantly evaluate adrenergic functions. Grading of adrenergic impairment requires results from both the Valsalva maneuver and the tilt test.
Sudomotor Testing
Quantitative Sudomotor Axon Reflex Test evaluates the postganglionic sympathetic cholinergic functions.
Autonomic Nerve Testing
1) Small Fiber Neuropathy
2) Autonomic Dysfunction seen in conditions like Diabetic Neuropathies, Parkinson's Plus Syndromes like Shy Drager Syndrome, and other Dysautonomias.
3) Postganglionic Sympathetic Dysfunction Distal Axonopathy seen in conditions like Chronic Pain Syndromes Like CRPS( Complex Regional Pain Syndrome), RDS( Reflex Sympathetic Dystrophy), and Radiculopathies.
Want To Learn More About Autonomic Nerve Testing?
If you have any questions or would like to learn more, please call or book an appointment online with the specialists at the Arizona Institute of Neurology and polysomnography. We are standing by, ready to take your call!